Osborn's Automotive
1001 S. Pacific Coast Hwy
Redondo Beach, CA 90277
(310) 698-5143
www.osbornauto.com
Any questions? Please contact your service advisor, Craig Rahsaan.
Digital Multi-Point Inspection
Inspected on

10/13/2021

Performed by

Rembert Reyes

Customer

Scott Osborn

Repair Order

45123
Vehicle

2008 Toyota Scion

VIN

JTLKE50E281044885

License Plate

CA TEST421

Odometer

177,887mi
Priority Items
Customers Original Concerns:
Safety - Priority 1: These items can contribute to dangerous driving conditions or breakdowns.
Wipers
Problem
(Resolved)
Finding: Front wipers are streaking/worn out
Recommendation: Replace front wiper blades
Battery
Problem 450 CCA
(Resolved)
Finding: Battery failed load test
Recommendation: Replace battery and check charging system.
Drive Belts
Problem 1 Qty
Finding: Belt(s) are cracked/torn
Recommendation: Replace belt(s)
Cost: If ignored, these items can lead to additional repairs
Radiator/Coolant Hoses
Problem
(Resolved)
Finding: Lower radiator hose is seeping
Recommendation: Replace lower radiator hose, suggest upper radiator hose
Brake Fluid - Condition
Problem
(Resolved)
Finding: Brake fluid is dirty
Recommendation: Service brake fluid
Brake fluid absorbs moisture and will cause corrosion in your braking system if not kept clean and dry. It should be replaced every 2 years to prevent hydraulic failures. Here's a quick video on what happens when your brake fluid gets excessive moisture in it: https://bit.ly/3kHhCyB
Maintenance: These items are recommended to increase the life of your vehicle and to lower the cost of ownership
Engine Oil Condition/Level
Problem
(Resolved)
Finding: Oil is dirty/contaminated
Recommendation: oil change
Comfort: These items will not affect the drivability or life of the car, but make driving it easier
Cabin Air Filter
Problem
Finding: Cabin air filter is dirty
Recommendation: Replace cabin air filter
*** The cabin Filter is what cleans the air that you breathe inside the car. It can contain mold, mildew and debris. This can degrade the air quality in the cabin of the vehicle.
Monitor Only
Rear Brake Pads
Warning 4 mm
Finding: Rear brake pads are close to minimum thickness
Recommendation: customer and monitor

CarMD™ Report
CarMD Report Information
Date and Time
10/7/2021 6:52:00 PM
Vehicle
2008 TOYOTA SCION XB
Engine
L4, 2.4L; DOHC; 16V
System Codes
More information...

Air Conditioner
Combination Meter
Cruise Control
Main Body
Occupant Detection
SRS Airbag
Tire Pressure Monitor
Faults
3
More information...

ABS/VSC/TRAC

C1241: Low Or High Power Supply Voltage

Electric Motor Power Steering (EMPS)

U0100: 1. Lost Communication With ECM/PCM 'A' 2. Lost Communication With EV ECU

Engine and ECT

P0301: Cylinder 1 Misfire Detected
Monitor Status
More information...

Catalyst Monitoring
Comprehensive Component Monitoring
Evaporative System Monitoring
Fuel System Monitoring
Misfire Monitoring
Oxygen Sensor Heater Monitoring
Oxygen Sensor Monitoring
Incomplete
0
Predictive Failures
Replace Ignition Coil(s) and Spark Plug(s)
19 %
Replace Mass Air Flow (MAF) Sensor
14 %
Replace Ignition Coil(s)
14 %
Miscellaneous
Was the Car Test Driven?
OK 3 Miles
All Lights Working?
OK
Dash Indicator Lamps OK?
OK
Oil Service Light Reset?
OK
Underhood
Power Steering Fluid - Condition
OK
Transmission Fluid - Condition
OK
Coolant Level/Condition
OK
Air Filter
OK
Fuel Filter
OK
Spark Plugs
OK
Ignition Components
OK
Tires and Brakes
Tires Rotated
OK
More Information...

If your tires are wearing unevenly, keeping them rotated and balancing them occasionally will help them last longer. For safe handling, the best tires should be in the rear on most cars.
All Tires Condition
OK 7 32nds
Adjusted Front Tire Pressure To:
OK 34 psi
Adjusted Rear Tire Pressure To:
OK 34 psi
Front Brake Pads
OK 7 mm
Wheel Torque
OK 85 ft lbs
Undercar
Steering Components
OK
Front Suspension
OK
Rear Suspension
OK
Engine Mounts
OK
Transmission Mounts
OK
Craig Rahsaan, Service Manager:
Craig started working for us at the start of the Covid-19 pandemic and has been focused on our customer service ever since. He's a great addition to the team and will make sure you always feel welcome.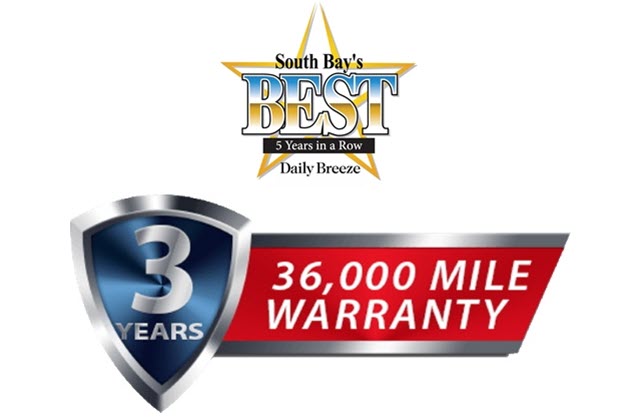 Most work is covered by our 3/36 warranty. See invoice and warranty for details.
Please contact Osborn's Automotive at (310) 698-5143 for more information about your Vehicle inspection.